By John Essien
An official of the Confederation of African Football (CAF) Dr Joseph Kabungo has been confirmed dead following the stadium invasion by fans at the end of Nigeria's World Cup play-off against Ghana in Abuja.
Kabungo, a Zambian medical practitioner, is reported to have lost consciousness after he was beaten and stepped on as fans made their way out of the stadium due to stampede.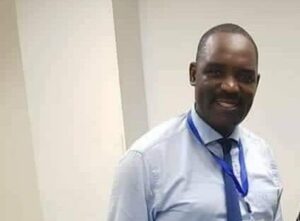 In a post on Twitter by British-Nigerian journalist Osasu Obayiuwana, his death was confirmed after he was rushed to the hospital.
"Sad news: I understand that an official for the Super Eagles of Nigeria v Ghana Black Stars match (not a referee or assistant referee) died in Abuja today," he wrote in an early tweet.
He then added: "Update: His name is Dr Joseph Kabungo from Zambia. He was on duty as Doping Officer. He collapsed suddenly and died. Cause of death not confirmed yet. His family, the Zambia FA and the government of Zambia have been duly informed."
Meanwhile,  CAF has not release an official statement but it is understood the family of the official have been notified.