Team Nigeria's athletes on Friday staged a protest in Tokyo, lamenting the ban placed on 10 of its members taking part in the track and field events of the ongoing Olympics.
It would be recalled that 20 athletes, including 10 from Nigeria were disqualified over failure to meet the anti-doping testing requirements.
The Athletics Integrity Unit (AIU) which runs the anti-doping program for the sport, requires athletes from countries categorized as "high risk" because of deficiencies in their testing programs to be given three no-notice, out-of-competition tests in the 10 months leading to a major event.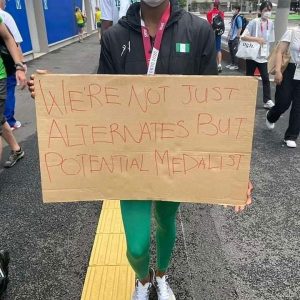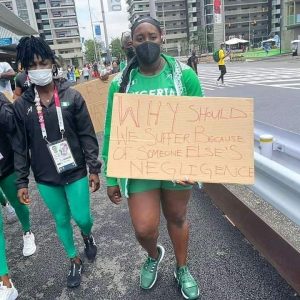 Following the disqualification, the athletes took to the streets in Tokyo to make their feelings known.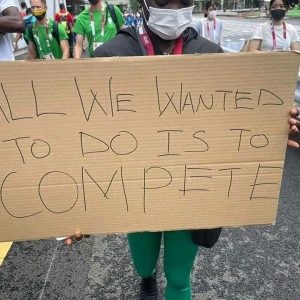 The protesting athletes carried placards with inscriptions like: "Why should we suffer for someone else's negligence", "All we wanted to do was compete" and "We are not just alternatives but potential medalists."
Meanwhile, on Friday the duo of Blessing Okagbare and Grace Nwokocha qualified for the 100 metres semi-finals of their different heats.