Paris Saint-Germain superstar Lionel Messi topped sports highest-earners after earning $130 million over the past 12 months, Forbes reported on Wednesday.
The legendary Argentine endured a tough first season at Paris Saint-Germain following his shock Barcelona exit, but has continued to rake the cash in from his new club and his various sponsors.
The seven-time Ballon d'Or winner is ahead of Lakers forward LeBron James and Manchester United's Cristiano Ronaldo, who occupied the second and third positions, respectively.
Meanwhile, last year's top ranked athlete, Conor McGregor, did not make the top ten – with the majority of his £148million earnings coming from selling his Proper No. Twelve whiskey brand.
Other notable absentees this time around include F1 pair Max Verstappen and Lewis Hamilton, Naomi Osaka, Tiger Woods, Tyson Fury and Kylian Mbappe.
The cut-off to make the top ten this year is $80.9 million, posted by Milwaukee Bucks' Giannis Antetokounmpo. The Nigerian-born NBA star is the youngest member of this exclusive club – in fact he is the only one still in his 20s.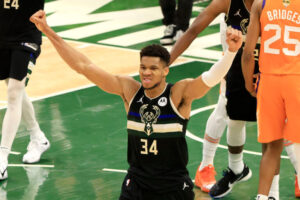 Born and raised in Athens to Nigerian immigrants, Giannis Sina Ugo Adetokunbo (Antetokounmpo) began playing basketball for the youth teams of Filathlitikos in Athens.
In 2011, he began playing for the club's senior team before entering the 2013 NBA draft, where he was selected 15th overall by the Bucks.
The list of the top 10 are presented below:
Lionel Messi (football) – $130 million
LeBron James (basketball) – $121.2 million
Cristiano Ronaldo (football) – $115 million
Neymar (Football) – $95 million
Stephen Curry (Basketball) – $92.8 million
Kevin Durant (Basketball) – $92.1 million
Roger Federer (Tennis) – $90.7 million
Canelo Alvarez (Boxer) – $90 million
Tom Brady (American football) – $83.9 million
Giannis Antetokounmpo (Basketball) – $80.9 million