By Emmanuel Nduka
Supporters pushing for the Presidential candidacy of Africa's most powerful Central Bank Governor, the Governor of the Central Bank of Nigeria (CBN) Godwin Emefiele, on Saturday stole the limelight in the nation's capital, Abuja, just as the ruling All Progressives Congress (APC) held it's National Convention.
The supporters who comprised mainly of youths and women, may have been driven by his laudable interventions as CBN Governor which has steered the Nigerian economy to a measurable stability, even in the face of questionable leadership.
The youths who have been the biggest beneficiaries of his empowerment packages, thronged the nation's capital in their thousands, calling for the professional economist to run for Presidency.
The youth group under the platform of 'Arewa Alliance For Godwin Emefiele 2023', carried placards with inscriptions urging Emefiele to 'answer' the call to run for the highest office.
Other support groups of Emefiele also flooded the APC Convention arena with posters, as thousands of faithfuls came out to show solidarity and support for his candidature, their presence which was more visible than that of other supporters of any other Presidential aspirants.
This further confirms the earlier speculation that high ranking persons in the APC-led Government had endorsed the candidacy of Emefiele, and are seriously pushing for him to succeed President Muhammadu Buhari who leaves office in May next year.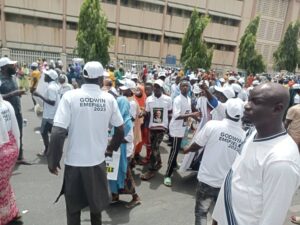 Heritage Times had reported that Nigeria's Minister of Justice and Attorney-General of the Federation, Abubakar Malami and media mogul, Nduka Obaigbena, founding Chairman of Arise News/THISDAY Newspaper, were among those routing for Emefiele's candidacy.
A top source in the APC had informed that the "APC is torn between Osinbajo, Tinubu and Emefiele's people, each pushing their own candidate and agenda".
It would be recalled that last month, Emefiele's supporters, mainly young people, were spotted with white T-Shirts with the inscription 'MEFFY 2023' at the occasion held in Lagos to draft him into the race.
Convener of the group, Wale Fapohunda, told the gathering that since Emefiele's appointment as CBN Governor, he had spent his energy building a resilient financial system that can serve the development needs of the economy, ignoring the glaring fact that Nigeria's economy has dipped to its worst state ever during Emefiele's tenure as CBN Governor.
Aside the event, it was also learnt that Emefiele's candidacy had been initiated long ago. Indeed, it started with the recent FCT mega rice pyramid, an initiative under the RIFAN/CBN Anchor Borrowers' Programme, used to sell the candidacy of Emefiele.
"The rice pyramid was conspicuously the first open declaration. The cabal led by AGF, Malami told Buhari they've settled for a Professional Technocrat. This came after rejecting the President of African Development Bank, Akinwunmi Adesina, and Obaigbena is one of those spearheading this," a source in the Presidency informed.
Aside those in the Presidency, it was also gathered that some APC Governors are also behind Emefiele, and have since urged him to throw his hat in the ring.
But reacting to the speculations recently when he received a group tagged 'Friends of Godwin Emefiele' in his office in Abuja, Emefiele said only God knows who will succeed President Buhari in 2023.
He stated that he would leave his fate firmly in the hands of God, adding that he has not confirmed to anyone if he is running for President.
Emefiele went further by stating that it is the prerogative of President Buhari to choose his successor in order to carry on his developmental strides and in line with global best practices for good governance.
He added that he remains humbled by Buhari's decision to grant him an unprecedented second term as CBN Governor- again without lobbying, and that he remains loyal and committed to his job.