By Ere-ebi Agedah
The Director, Women Radio Centre, Toun Okewale-Sonaiya has urged female journalists in Nigeria to intensify and focus their reportage on issues in the society directly affecting female gender, stating that only a woman can truly tell a woman's story.
Okewale-Sonaiya made this call on Friday, while speaking during the closing and certificate presentation ceremony of a one week fully funded training for women in Media organized by Women Radio Centre in collaboration with MacArthur Foundation, at the organization's headquarters in Arepo, Ogun state.
According to Okewale-Sonaiya, it had become expedient for Nigerian female journalists to give a voice to untold stories surrounding women, insisting that women have peculiar stories that must be told.
She explained that the training for the female journalists was organized with the aim of equipping young female reporters with the skills to meet up with the current global needs in journalism which will directly impact positively on the Nigerian society.
She said the carefully selected 20 trained female journalists emerged from different regions of the country, adding that the women have been trained by the best hands in academics and the media.
Okewale- Sonaiya maintained that the media remains the easiest avenue to beam the searchlight on issues in the society thereby bringing them to the government's attention.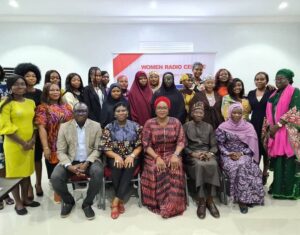 ''Women are human beings but their stories are not told, their stories are relegated. Let's use our power to tell our stories, there are so many untold stories out there, stories that need to be uncovered for people to see that there are gaps and those gaps need to be filled.
''For people to know that women are treated unfairly there is no justice, so when we x-ray and bring these issues out, we can see that we have been unfair to women. This is what formed the idea to train female journalists to learn how to investigate and report issues, issues that reflect weaknesses in the system, issues that are under covered, under reported and bring it to the fore so that we can find solutions, that is why we decided to train women to tell stories from the woman angle" she said.
She however, called on the government at all levels to begin to support and invest more in women.
Also speaking earlier, Africa Director, MacArthur Foundation Dr. Kole Shettima explained that the Foundation was interested in increasing the quality of female journalists in Nigeria, hence the reason to collaborate with Women Radio Centre.
Dr Shettima praised the Women Radio Centre for carving a niche of excellence, passion, continuously amplifying and giving voices of women, adding that the foundation will continue to support their great works of impactful journalism.
The intensive one week training equipped 20 female journalists with tools to carry out investigative reportage from the woman angle, featured different topics ranging from background to investigative reporting, investigative reporting from a gender perspective, pitching stories, safety tips among others.
Facilitators included Deji Bademosi, Founder TV360 Nigeria, Dr. Suleiman Yar'Adua and Dr. Ruqayyah Aliyu of Bayero University Kano, Dr. Raheemat Adeniran of Lagos State University, Dr. Adma Adamu of Ahmadu Bello University, Zaria, Motunrayo Alaka of Wole Soyinka Centre for Investigative journalism, Juliana Francis of Eagle Online, Fisayo Soyombo of Foundation for Investigative Journalism, among others.