By John Ikani 
The Revenue Mobilization Allocation and Fiscal Commission (RMAFC) has commended the Executive Secretary of the Nigerian Content Development and Monitoring Board (NCDMB) Engr. Simbi Wabote (FNSE) for his "outstanding leadership style, " describing it as transformational.
RMAFC Chairman, Anyang Okon, gave the commendation when he led a delegation to pay a working visit to Engr. Wabote today at the Board's Headquarters in Yenagoa, Bayelsa State.
Okon, in his speech said the visit was part of RMAFC's plan to engage MDA's on how diversify and expand their revenue sources.
He also commended the Board for its magnificent 17-storey edifice – the Nigerian Content tower – stressing that it was one of the many testaments of Engr. Wabote's outstanding leadership at the NCDMB.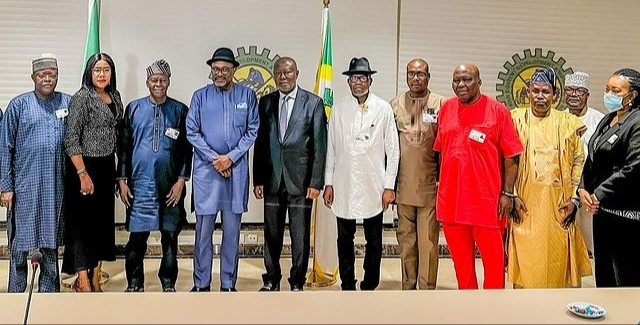 The ES in his remarks welcomed the delegation to the Nigerian Content Tower and highlighted the Mission, vision, mandate as contained in the NOGICD Act and Achievements of the Board as well as its Strategic Partnerships and 10 year strategic roadmap of the Board.
Engr. Wabote noted that the focus of the NOGICD Act 2010 is not "Nigerianization" of the oil & gas sector, but "Domiciliation" and "Domestication" of value-adding activities.
In case you missed it
This is not the first time the Nigerian Content Chieftain would be lauded for his transformational leadership at the NCDMB.
In May, the ES bagged Vanguard's Regulator Of The Year Award for his "doggedness in delivering local content goals."
Engr. Wabote was appointed as the Executive Secretary of the NCDMB by President Muhammadu Buhari on September 29, 2016.
Due to his excellent performance during the first tenure, he was reappointed for a second term by the President on September 25, 2020.
Heritage Times (HT) had earlier chronicled NCDMB's giant strides in 2021 under the transformational leadership of Engr. Wabote has been relentless at initiating, regulating and catalysing new opportunities that engender value-adding activities in-country and on the African continent at large.