Thomas Tuchel will relish a reunion with Pierre-Emerick Aubameyang, when Chelsea clash with Arsenal on Wednesday, but the German has been more concerned about stopping the striker later tonight.
There are not less than three matches remaining in the Premier League season which has already been won by Manchester City.
Pep Guardiola's men retained the EPL title, maybe watching from a screen as Manchester United surrendered a frantic chase at home on Tuesday after being piped 2-1 by Leicester City.
Ahead of the London clash at Emirates, Tuchel and Aubameyang will sit on emotions until after the blast of the final whistle before we expect to see the pair involve in a 'bromance'.
"It's nice to see him because he's always on for a hug and it's nice to see him laugh, but, of course, we want to stop him and there is no exchange now before the games", Tuchel who coached the Gabonese international during a two-stint at Dortmund said.
Aubameyang has faced increased criticism amid his side's struggle to qualify for any European competitions, but it's entirely different for his former boss, who is currently taking accolades for transforming Chelsea into a force in Europe barely three months after he took over at the helm.
However, Tuchel took time to heap praises on the Arsenal skipper, admitting it was a great time with the 31-year-old.
"it was a pure pleasure to have him in the squad. Auba was a fantastic striker, a fantastic finisher on the pitch. But more than that, he was a fantastic worker off the pitch. I think he did not miss one single training in two years.
"Maybe he arrived five minutes late on the training ground, that can happen with him! But if he does this, he is in a hurry, he excuses, he feels sorry, he has still a smile on his face.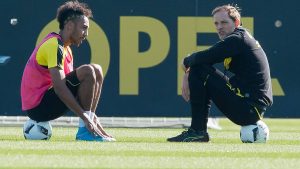 "A bit of a crazy guy, but this is nice crazy. We still are in touch from time to time and exchange messages when some of us has a big win. In some way, he will still always be my player and feels like he will always be my player, so you want him to succeed and have a good time wherever they are",Tuchel said.
Arsenal may seem to have nothing to fight for when they take to the pitch to face an in-form Chelsea side in the running for a top-four spot, but anything is likely to happen in a fierce London derby.
Chelsea climbed down from third place to fourth – though with a game at hand – as Leicester City retained third spot following their win at Old Trafford.