Tiger Woods is 'awake, responsive and recovering in his hospital room' after extensive surgery on Tuesday to his lower right leg and ankle, following a crash in California that police said he was lucky to survive, Daily Mail.
Woods, 45, was put under general anesthetic at Harbor-UCLA hospital as surgeons fitted metal rods, screws and pins to his shattered right shinbone and calf bone following the crash, which happened around 7.15am Tuesday in south Los Angeles.
Anish Mahajan, chief medical officer at the hospital, said Woods suffered comminuted open fractures of his tibia and fibula – where the bone splinters into two or more pieces and comes through the skin – and had a rod inserted in his tibia, with his foot and ankle 'stabilized with a combination of screws and pins'.
Muscles surrounding the bones were cut to relieve swelling, Mahajan said, describing the injuries as 'significant'.
He did not say what Woods' prognosis is, or whether he will be able to play golf again. Girlfriend Erica Herman is thought to be at the 15-time major winner's bedside.
Police say Woods did not appear to be under the influence at the time of the crash but that blood tests will be carried out as part of an investigation due to last 'weeks'.
Woods has been recovering from back surgery and was not playing golf professionally, though he was expected to return sometime later this year. It is not clear whether he was taking pain medication, though he has taken opiod medication after back surgery in the past which resulted in an addiction.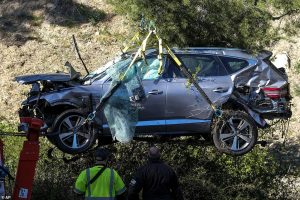 In 2017 he was arrested for DUI after police found him slumped in his car in Florida with five drugs in his system, including two two painkillers. He subsequently checked into rehab for painkiller addiction.
He was involved in another high-profile crash in 2009 when he hit a fire hydrant after being chased from his home by then-wife Elin Nordegren, which led him to admit to multiple affairs and drug use.
Woods crashed while driving at high speed in a notorious accident black-spot in Los Angeles, police said, adding that he hit a raised central reservation, smashed through a wooden street sign, hit a tree and then flipped his Genesis GV80 SUV over several times.