By John Essien
The Guinea-Bissau Football Federation has confirmed that their entire squad of 25 players have been hospitalised ahead of their fixture against Morocco Wednesday night.
The Guinea-Bissau side was due to take on their Moroccan counterparts in a Qatar 2022 World Cup Qualifier which may no longer hold.
This is not the first time both countries are experiencing exigencies in a fixture.
Recall that the World Cup qualifier which was scheduled for last month between both countries in Guinea, had to be postponed as a result of an attempted coup on the Guinean President.
Prior to their clash with the Atlas Lions, the Guinea-Bissau squad were having dinner at their hotel base in Morocco on tuesday night and 15 minutes after leaving the dinner table the players began experiencing stomach upset, according to reports.
Baciro Candé, Coach of the Guinean team told a Senegalese Press Agency that players experienced diarrhoea and were vomiting and subsequently hospitalised.
The Guinea-Bissau Football Federation took to their official Facebook account to confirm the news.
"Guinea-Bissau Football Federation has reported that 25 players and some technical staff suffered diarrhoea and vomiting last night after their dinner and were sent to the hospital for intensive care," the report said.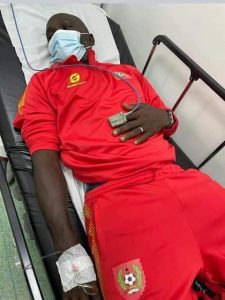 The President of the Guinean Federation was quoted as saying that "practically all the players and elements of the technical team have had vomiting and diarrhea since dinner on Tuesday. Carlos Teixeira also said he was trying to contact the gaming commissioner, a Sierra Leonean, to brief him on the situation."
The match had been slated for the Complexe Prince Moulay Abdellah Stadium, Rabat, Morocco.