By Ebi Kesiena
In commemorating World Sight Day, International development organization Sightsavers has urged global leaders and stakeholders to address the glaring disparities in eye health services.
In a statement on Thursday by Communication Associate, Joy Tarbo, noted that the call was in line with a demand for universal access to essential services, including remote and rural communities, women, girls, and individuals with disabilities.
While regretting the inaccessibility of eye health services and products in urban areas, Sightsavers noted that eye care still remain inaccessible to marginalized groups and underserved regions.
''Globally, an alarming 1.1 billion people suffer from untreated or preventable visual impairments. In Nigeria, as of 2020, an estimated 24 million people grappled with vision loss, while the country had a meager ratio of just 3 ophthalmologists per million people, falling short of the World Health Organization's minimum recommendation of 4 ophthalmologists per million. This stark inequity in access to eye care services further perpetuates disparities in health.
"More disconcerting is the fact that women represent over half of the world's blindness and visual impairment cases. Moreover, individuals with disabilities are three times less likely to receive the healthcare they desperately need, exacerbating the gap in quality healthcare delivery'' the statement reads.
Also, Dr. Sunday Isiyaku, Country Director at Sightsavers, emphasized the urgency of addressing these issues, stating, "Eye health should be equally available to everyone; no one should be disadvantaged because of their location, gender, health, or background. But currently, it is inaccessible for some sectors of society and even a luxury for those in urban areas."
Dr. Isiyaku goes on to stress the significance of this change, explaining that addressing these issues has a profound ripple effect, impacting the ability of children to learn and adults to earn.
Furthermore, Sightsavers noted that ''Governments worldwide are striving to achieve the Sustainable Development Goals (SDGs), a set of United Nations (UN) objectives aimed at reducing global poverty and inequality while safeguarding the environment. These goals include the ambition of achieving universal health coverage (UHC) to ensure equitable access to healthcare services.
''Furthermore, in 2021, global leaders unanimously adopted the UN's 'Vision for Everyone' resolution, which explicitly links eye health to all the SDGs.
''Recognizing inclusive eye health as a fundamental component of healthcare and development is crucial to attaining these goals and resolutions. Failure to do so may undermine the pursuit of the SDGs and UHC, as highlighted by the World Health Organization's recent report in September, indicating that the world has fallen behind in making significant strides towards universal health coverage, with stagnation in improving health services coverage.
''The real-life impact of inclusive eye health services is profoundly demonstrated through stories like that of Hadiza from Kogi state. Suffering from deteriorating eyesight, Hadiza's life became increasingly challenging, with her son and daughter assisting her with daily activities.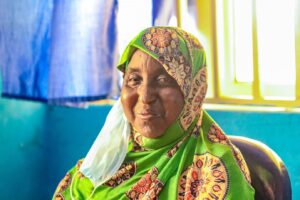 ''However, after learning about cataract surgeries offered through a Sightsavers project in collaboration with the state Ministry of Health, Hadiza underwent successful surgery, and her sight was restored. Today, she can perform daily activities with ease and independence'' the statement reads.
In the same vein, Sightsavers disclosed that in its commitment to addressing the need for inclusive eye health it is actively supporting the Federal Ministry of Health on World Sight Day, as it has also launched a new national eye health strategy and a glaucoma toolkit, providing a roadmap to enhance eye health services over the next five years.
However, Dr. Selben Penzin, Senior Program Manager – Eye Health at Sightsavers, acknowledged the ongoing efforts with the government and partners but emphasizes the necessity of eye health representation in health planning, resource allocation, and funding. Also stressing on the importance of community outreach, a diversified workforce, and inclusivity for marginalized groups in order to bridge disparities in access to eye care services.