By John Ikani
Fire, on Sunday, razed Next Cash and Carry Supermarket located in the Jahi area of the Federal Capital Territory, Abuja.
In a video making rounds on social media, a cloud of thick smoke could be seen billowing into the sky from the massive facility as firefighters raced to contain the inferno.
Heritage Times gathered that no casualty has been recorded yet as the blazing inferno started just before the mall, adjudged as one of Abuja's biggest supermarkets opened for business.
The cause of the inferno is yet to be ascertained while the Management of the Supermarket is yet to make an official statement concerning the tragedy at the time of filing this report.
Another sabotage from society?
It is worthwhile to note that Next is the second major supermarket in the Federal Capital Territory (FCT) to be gutted by fire in the past six months.
Prince Ebeano Supermarket was gutted by fire on July 17, losing goods worth millions of naira.
Both Supermarkets are reportedly owned by entrepreneurs from the southern part of Nigeria and given what happened at the Ebeano Supermarket in Abuja, deliberate sabotage from society cannot be ruled out as a possible cause of the inferno.
In a closed-circuit television (CCTV) footage that went viral, a girl (whose age was later put at nine) could be seen walking to a section of the Ebeano Supermarket where gas cylinders and electric cookers were kept.
She picked up a lighter, ignited an item and walked a distance away, evidently to confirm that the process she had set in motion was on. She then moved out of the building.
In another video obtained by Heritage Times, nearby residents and passersby could be seen looting goods from the compound of Next Cash & Carry Supermarket as the fire raged on.
Economic Implications of the tragedy
Goods worth millions of Naira have been lost in the inferno, a development which comes with attendant loss of jobs and impoverishment of investors.
Recounting his loss to newsmen one of the investors who identified himself as Godwin told Online Investigative Newspaper Premium Times that he had just supplied goods worth N4.5million.
"In this Next Cash and Carry, I'm the youngest supplier. I'm a supplier of Silver Crest. What is paining me is that I gave them my goods for January and February and they have not been signed.
"We all know that Next does not have products, It is just a warehouse where you bring your product. They sell for you and you give them a percentage. If you sell for them at N30,000, Next will sell at N35,000. They take N5,000, give you your N30,000.
"My goods that have not been signed worth over N4.5million. Where am I going to start from?" he told journalists at the scene.
What you should know
One of the tragedies of Nigeria is that that the West African country no longer promote entrepreneurship, nor does it support or encourage the few who dare.
Impediments are being placed along their paths by unfriendly government policies at a time many in the nation are desperately in need of jobs.
Unfortunately, impediments to entrepreneurship in Nigeria do not only come from the government.
The looting of goods from the compound of Next Cash & Carry Supermarket by nearby residents and passersby is a reflection of how society also sabotage entrepreneurship in the country.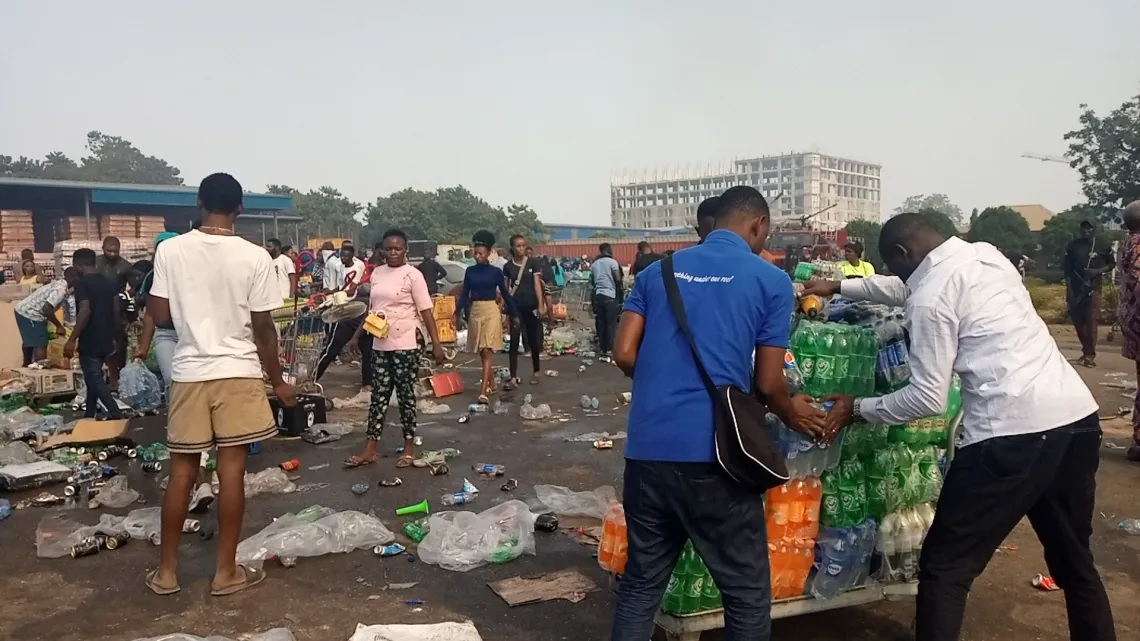 How does entrepreneurship affect the country?
Entrepreneurship is important for a number of reasons, from promoting social change to driving innovation. Entrepreneurs are frequently thought of as national assets to be cultivated, motivated, and remunerated to the greatest possible extent.
In fact, some of the most developed nations such as the United States are world leaders due to their forward-thinking innovation, research, and entrepreneurial individuals.
New and improved products, services, or technology from entrepreneurs enable new markets to be developed and new wealth to be created.
Additionally, increased employment and higher earnings contribute to better national income in the form of higher tax revenue and higher government spending.
This revenue can be used by the government to invest in other struggling sectors and human capital.
Great entrepreneurs have the ability to change the way we live and work, on local and national bases.
If successful, their innovations may improve standards of living, and in addition to creating wealth with entrepreneurial ventures, they also create jobs and contribute to a growing economy.
The importance of entrepreneurship is not to be understated.