Chelsea advanced to the Champions League final for the third time in their history by defeating Real Madrid 2-0 this evening, securing a 3-1 aggregate win.
Goals from Timo Werner and Mason Mount were enough to send the Blues through where they will aim to win the competition for a second time and first since 2012.
Los Blancos were lacklustre and failed to put the home side under sufficient pressure, allowing them to progress with relative ease.
Chelsea will face Manchester City in the Champions League final on May 29 in Istanbul. The Blues face Pep Guardiola's team in the Premier League at the weekend on the road.
Real Madrid must overcome their loss to focus on their La Liga title challenge at home to Sevilla on Sunday.
Here, The Heritage Times looks at three things we learned from the Stamford Bridge clash…
Thomas Tuchel proves a point
Tuchel became the first manager to reach the European Cup or Champions League final in successive seasons with different clubs.
The German tactician had led PSG to last year's Champions League final, seeing his side fall 1-0 to Bayern Munich before he was sacked months later.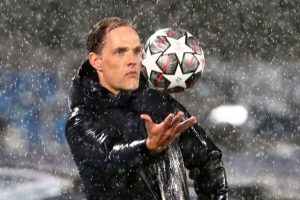 Chelsea have lost twice in 22 games since the 47-year-old took over from club legend Frank Lampard mid-way through the season.
He took Chelsea from 9th to 4th currently in the League table and reached FA Cup final to cap incredible run in his first spell in charge.
Though, Tuchel did admit to having "trust" concerns when he was presented with an 18-month contract by Chelsea, but the German quickly made peace with that offering.
"At first I didn't like it, I thought 'maybe they don't trust me?'
"'I have to leave my country, maybe leave my family behind and they are many points behind fourth spot'.
"Maybe we won't make it which is still possible because it's a tough race and it will be easy to sack me again.
"But after just a matter of minutes I took the weight off my shoulders. I thought 'if I'm good, if they like what I'm doing they will make me stay."
"'If I'm not good, if I don't have good results they will sack me anyway.' I can have a five-year contract and they could still sack me so why worry about it?
However, the former Dortmund boss
"Am I convinced about myself? Yes. Am I convinced about this club and team? Yes and yes. So why worry?
"From there on I stepped out of the cycle of thinking and I live a bit easier now. I don't worry as much."
Zidane's 'formation gamble' backfired
Madrid boss went with his gut over his head against Chelsea, bringing back captain Sergio Ramos for only his third game since January 9, and his first in nearly two months.
The 35-year-old veteran defender was badly exposed throughout, as the home side overran their visitors from Spain, particularly during the second half.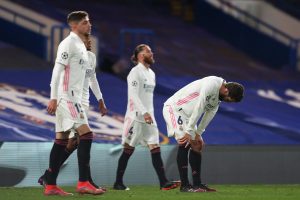 Zidane's greatest crime on the night was his extremely unusual formation. Madrid have played 3-5-2 at times this season, but the approach was different this time.
The Frenchman picked a team that best fit a 4-3-3 on paper, but they lined up with Eder Militao, Ramos and Nacho at the back.
Instead of the usual set-up, Nacho and Militao pushed wide left and right respectively, leaving Ramos isolated in the middle.
It was Chelsea's poor finishing that stopped Thomas Tuchel's side from putting in more goals past Courtois.
Chelsea still toothless in the attack
It appears the Blues are still lacking the required killer instinct in front of goal. Chelsea should have blown Real Madrid away with the number of clear chances they created at Stamford Bridge.
Havertz had nearly doubled the hosts advantage 90 seconds into the second-half. Azpilicueta pulled a superb cross as Havertz rose highest and couldn't have done more with his header, which beat Courtois but not the crossbar.
Another glorious opportunity to double the advantage then came and went. Werner headed on and suddenly Mount was away, with the whites of Courtois' eyes in his sight. Unfortunately, the shot flew over.
Tuchel's men were back there on the hour. This time, Jorginho released Havertz with a simple pass through the heart of the Real Madrid backline. His first touch to set himself was exemplary, but the finish hit Courtois' outstretched leg.
However, Chelsea still held their heads up as substitute Christian Pulisic teed up Mason Mount to seal the victory having had the visitors trail by a goal down from first-half thanks to Timo Werner's header in the 28th minute.