By John Ikani
Attempts to rescue a five-year-old boy trapped in a Moroccan well stretched into a fourth day Saturday, with unstable soil threatening the painstaking work of trying to dig him out safely.
Rescuers worked through the night to reach the boy, named by local media as Rayan, who plunged 32m (104ft) through the well's narrow opening four days ago.
They used a rope to send oxygen and water down to the boy as well as a camera to monitor him, but did not provide information Saturday about his condition.
The complex operation has gripped the North African country for days, and thousands have gathered at the scene.
Rayan fell into a 32-meter (105-feet) well located outside his home in the village of Ighran in Morocco's northern Chefchaouen province on Tuesday evening. He is now trapped in a hole too narrow for rescuers to reach safely.
Fears of a landslide have made the rescue operation more dangerous.
That risk combined with the mixture of rocky and sandy soils has meant rescuers deem opening the water well's narrow shaft to be too dangerous.
Instead, bulldozers have been used to cut a huge trench next to the well and authorities say they are "almost there".
Once the trench reaches the same depth as the well, rescuers can start digging horizontally to reach the boy.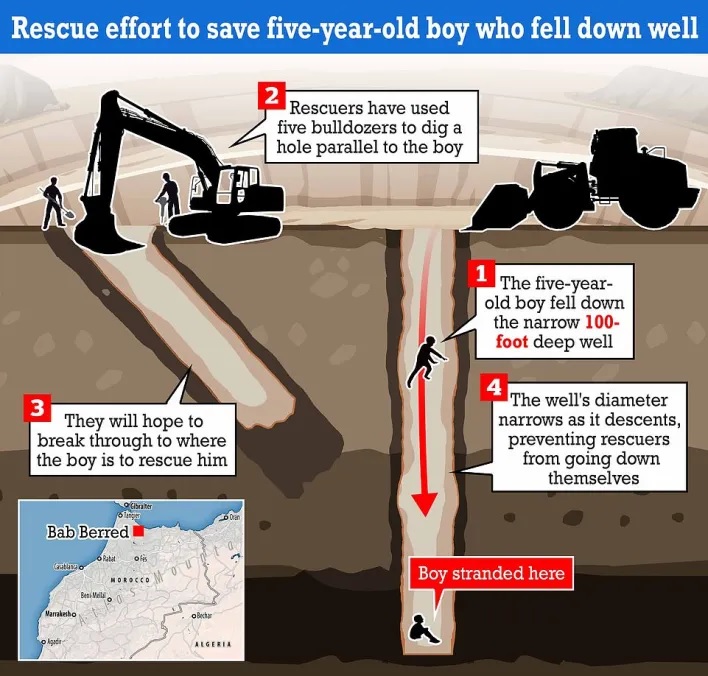 Medical staff, including specialists in resuscitation, are on-site to attend to the boy once he is pulled out, with a helicopter on standby to transport him to the nearest hospital.
Led by Morocco's Civil Protection Directorate, rescue operations in the small northern town of Tamorot, around 100km (62 miles) from the city of Chefchaouen, have been ongoing since Tuesday evening.
The roads around the town are lined with cars and buses, while thousands have cheered rescuers at the site.
His distraught parents are joined by hundreds of villagers and others who have gathered to watch the rescue operation.
Nationwide, Moroccans took to social media to offer their hopes for the boy's survival, using the hashtag #SaveRayan which has brought global attention to the rescue efforts.