By Enyichukwu Enemanna
Days after being held in custody, Aminu Muhammad, a final-year student of Federal University, Dutse, Jigawa State, was on Friday evening released where he met with President Muhammadu Buhari at the Aso Rock Villa before uniting with his family.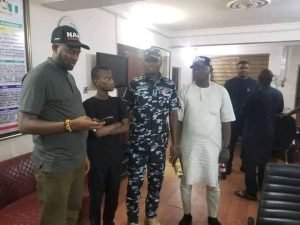 Aminu was arrested by the police at his university campus on November 18 over a tweet which the wife of the President, Aisha Buhari found offensive.
His arrest sparked reactions with the National Association of Nigerian Students (NANS) apologising to Mrs. Buhari over the tweet.
The tweet, which was posted on June 8, reads: "Su mama anchi kudin talkawa ankoshi."
Muhammad's tweet, accompanied by a photo of Aisha, loosely translates as "Mama has eaten poor people's money and is now full".
He had been arraigned before Justice Yusuf Halilu of the Federal Capital Territory High Court in Maitama, where he pleaded not guilty and was remanded at Suleja prison in Niger State.
Aisha Buhari had also withdrawn the defamation charges against Muhammad.