By Ere-ebi Agedah
Former President Olusegun Obasanjo has thrown his weight behind diaspora voting in Nigeria, stressing that he sees no reason why the National Assembly cannot amend the relevant laws to make it possible for Nigerians in Diaspora to Vote.
The Former President noted this while speaking during a courtesy visit by the Chairman/CEO, Nigerians in Diaspora Commission, (NIDCOM), Hon. Dr. Abike Dabiri-Erewa , and some staff of the Commission, in Abeokuta, the Ogun State Capital.
The Chairman/CEO, (NIDCOM), Hon. Dr Abike Dabiri-Erewa, thanked President Obasanjo for his initiative to get Nigerians to co-ordinate their activities under a Non Governmental Organisation, (NGO), Nigerians in Diaspora Organisations, (NIDO) over twenty years ago.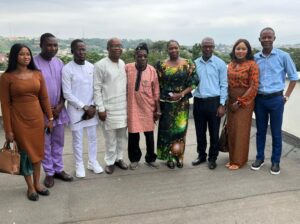 Dr. Abike Dabiri-Erewa also intimated President Obasanjo of some of the achievements of NiDCOM since its establishment, through the harnessing of the potentials of Nigerians in Diaspora for growth and national development.
This engagement process has led to investment by Nigerians in Diaspora in critical sectors of the economy such as health, agriculture, hospitality and tourism, housing, among others.
However, the NIDCOM Boss added that the Commission has also launched a Diaspora Data Mapping Portal for demographic and strategic development.