By Emmanuel Nduka
Despite huge funds budgeted for the rehabilitation of Nigeria's Legislative Chambers, heavy downpour on Tuesday led to the leaking of the roof with water splashing to the lobby of the building while plenary took place.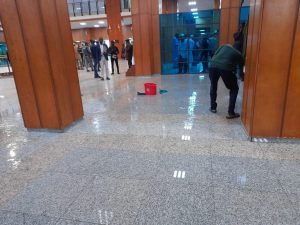 Heritage Times also gathered that the disturbing situation also spread to the Press Centre in the Senate wing of the nation's apex legislative institution.
It would be recalled that the leadership of the National Assembly had in 2020 approved the sum of N37bn for the renovation of the edifice, built about 27 years ago.
The outrageous amount had elicited angry reactions from Civil Society Organisations (CSOs) and other concerned members of the public.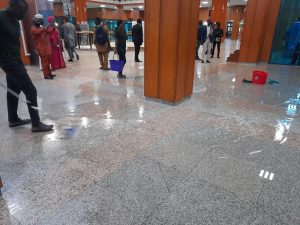 However, amid the leaking roof of the lobby, Senate President, Dr. Ahmad Lawan entered the chambers at exactly 11.00am to preside over the plenary, just as cleaners had a hectic time scooping water from the floor.