Cristiano Ronaldo and girlfriend, Georgina Rodriguez are expecting a set of twins, the 36-year-old Manchester United star announced on Thursday.
Ronaldo shared the news with fans on Instagram, and gushed that their "hearts are full of love."
Ronaldo, who will welcome his second and third child with Georgina, 27, wrote: "Delighted to announce we are expecting twins. Our hearts are full of love – we can't wait to meet you."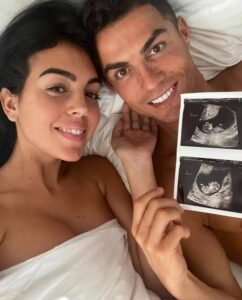 Ronaldo's post showed himself and Georgina proudly showing their twins' ultrasounds, along with an image of his four children swimming together.
Minutes after the Man United striker shared the news, his mother Dolores Aveiro wrote: "Let my grandchildren be born healthy. That's what matters the most."
The 66-year-old who suffered a life-threatening stroke last year, posted the twins' ultrasounds on her Instagram Story around the same time along with an applause emoji.
Georgina's elder sister Ivana, who confirmed in July that she was expecting her first child with her painter and sculptor partner, Carlos Garcia, also congratulated the footballer and his partner.
They wrote the couple's Instagrams in Spanish: "Congratulations, family" followed by two heart emojis.
Georgina and footballer Cristiano famously met while she was working as a Retail Assistant in Madrid.